Product
Introduction
Seabite is a unique fully electronic bite alarm which detects bites by 'feeling' them on the rod. The alarm simply attaches to the rod and automatically adjusts itself to provide you with optimal sensitivity so you never miss a bite.
Features and Benefits
Fully electronic bite movement detection, from tiny flounder bites to massive cod bites, Seabite will even detect drop back bites.
Seabite isn't just a motion detector, it analyses the types of movement so as to reject movements caused by wind, wave and tide yet provide ultra sensitivity to bite motions.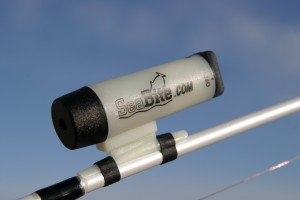 Sensitivity adjustment is an essential feature of high end bite alarms but Seabite goes one step further with its unique automatic sensitivity level control. Seabite continuously monitors the movements generated by prevailing wind and sea conditions and will set the sensitivity to prevent false alarms and provide optimal sensitivity to fish bites.
Seabite features both an Audible alarm which pulsates during bite detection and a flashing LED visual bite indication. The LED will continue to flash for 2-3 seconds after a bite indications so that the rod with the bite can be clearly identified.
The electronics in Seabite include a timer which automatically silences the audible alarm after a pre set time to prevent the annoyance of false bite indications whilst reeling in.
Fixes to rod with 'click action' detachable rod clip which is engineered to allow casting with the bite alarm on the rod. The light weight design of the alarm minimises changes to the balance of your rod so as not to affect your casting.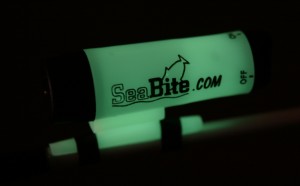 The main body of the Seabite enclosure and rod clip includes a high quality photo luminescent additive which allows Seabite to glow in the dark once charged with a light source such as a torch. This 'glow in the dark' feature can eliminate the need for an additional tip light providing a neat all in one solution.